13 Things You Should Not Throw Away!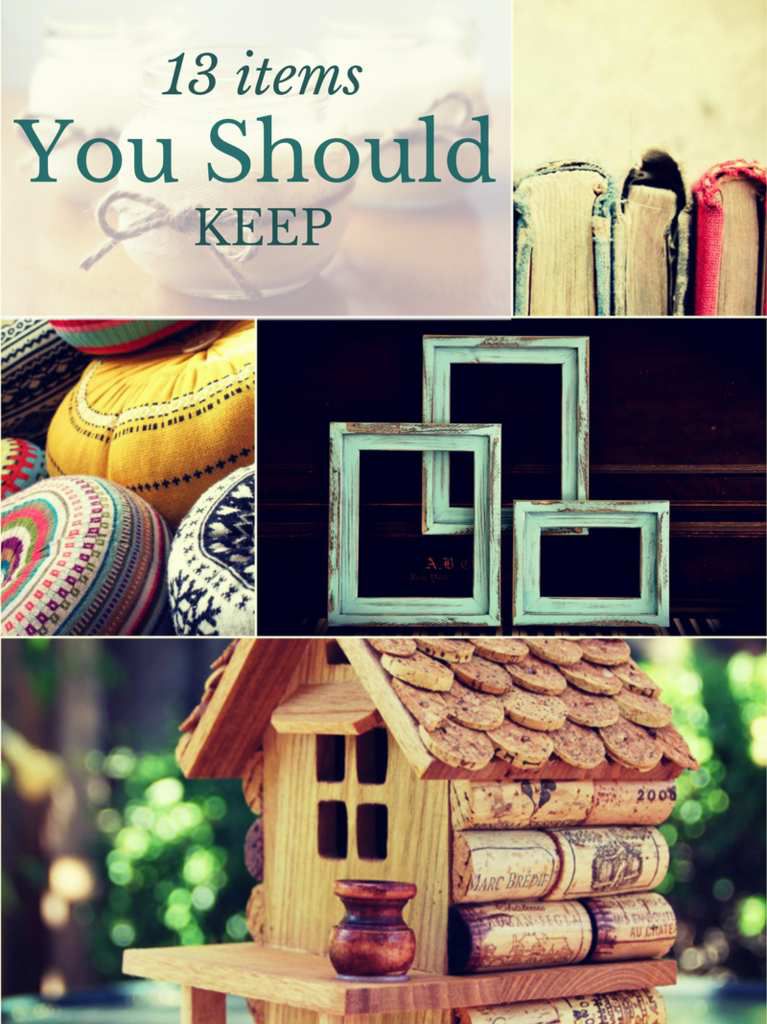 When in need to declutter their home, most of the people become very attached to their household items. The term "declutter" is exactly the opposite of this scenario – getting rid of random objects is its basic. However, this article is about the items you should keep – along with random gunk, there are things that can be upcycled in many ways. If you are about to perform such a decluttering project, read on. Don`t toss these items – give them a second life!
Baby food jars – being small and convenient, they are perfect for storing your spices. They are also suitable for keeping and organising tiny objects like screws and nails – you can keep a jar or two in your garage.
Picture frames – it doesn`t matter if the paint has peeled off or it has little scratches, frames can be always decorated and revived. There are so many DIY projects you can perform with an old frame that throwing one away sounds like a big waste of materials!
If you have a little kid at home, you probably deal with broken bits of crayons on daily basis. Keep them around for a fun kid project! Collect a lot of pieces and make melted crayon art! All you need is a blank canvas.
Getting junk mail and random flyers is annoying but don`t rush to throw them away! This is valid for old newspapers, too. When you need to move out and have to pack everything carefully before the end of tenancy cleaning, your fragile items can be easily wrapped in such old paper. It will act as a cushion so you should not be worried about the vase your grandmother gave you when you are ahead of removal. Not to mention that if you have a fireplace, you can use this scrap paper as kindling.
Keeping spare buttons is a thing you should not fail to do. Emergency clothing repairs do happen quite often so being prepared is always nice. Keep buttons for different craft projects. Remember the storage idea starring baby food jars? You can easily store the small buttons in there.
Fancy glass bottles – if you have bought preserved fruit in an interesting bottle, don`t rush to toss it once you have finished eating. Glass bottles, especially when they have lids, can be used for various purposes – canning jams, storing supplies and using them as a container for different food leftovers.
Don`t you dare to throw away your old books! Even if they are damaged, there are many ways to upcycle them. You can always decide to donate the readable ones but before that check some craft ideas online!
Keep your old toothbrushes – don`t worry, we won`t try to persuade you to re-use them again for their original purpose. If your toothbrush is no longer good for you teeth, you can simply include it in your list of cleaning tools in your home. They are great for cleaning and scrubbing little areas and crevices in your bathroom and kitchen. Even if you use a professional house cleaning , in between the visits of your maid you can keep your living premises spick and span!
Wine corks – there are so many cool idea for DIY projects that you will definitely start drinking Merlot more often to collect more corks! You can make cork boards, coasters, personal stamps and so on.
Old t-shirts – when your t-shirts are no longer wearable, turn them into rags! Cotton shirts make amazing all-purpose rags for wiping off counters, dusting and washing cars. If you consider your t-shirt too good and sentimental to be turned into a cloth, give it a second life and upcycle it to a cute crop top or a tote bag.
Aluminum foil – the unique properties of this metal, make the foil the perfect reusable item. Next time you come up to an used sheet, rinse it and make the best of it. You can remove baked-on dirt from your pots and pans – use it as a scrubber. If you notice that your silverware is tarnished, polish it with some aluminum foil – thanks to a chemical reaction, the tarnish will be dissolved in no time. Last but not least, sharpen your scissors for precise cuts – simply cut through the foil a few times.
What do you do with the vegetable and fruit scraps? You probably don`t keep them around your house but why throw them away when you can use them as compost and make your garden flourish.
Old tires are one of those things that are meant to be a big part of many DIY projects. If you have a garden or a porch, you can make interesting furniture out of it!

If you hate letting old items go to waste there are many ways to turn them from trash to treasure. The aforementioned are just a few of the ways to upcycle them!